JFX-Browser
Hi! :wave: If you like the project don't forget to give us the star :+1:
A web browser written in java and love with javaFX front-end.The browser is based on JavaFx's webview.
Youtube Demonstration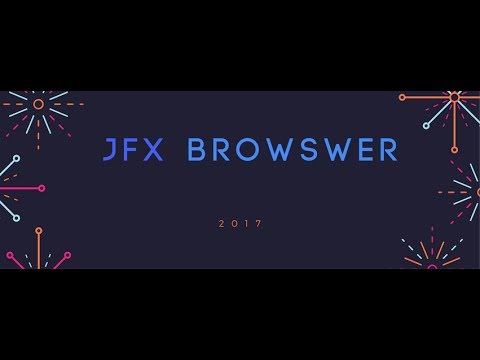 Documentation
The docs is available in the google drive which can access. :gift: We would be happy if you contribute to write GitHub pages docs for this.
Follow me on Twitter
Download and try it :)
Features
Browse the Web.
Manage History of browsing.
Keep your favourite sites saved in Bookmarks.
Download files with our browser's Downloader.
Convert HTML page into PDF with our HTML to PDF converter and save it to your local machine.
Keep your secret online accounts saved in Passowrd Valut.
Usage
Once you have all Dependencies.
download the project or clone it click here
open the SEGP folder with your favourite java IDE e.g eclipse, intellij, NetBeans.
Make sure you have javaFx setup in your IDE.
You may need to include the libraries in the lib folder into your class path.
Open the main package and run Main.java class enjoy !.
Important Information
Dependencies

1) JDK 1.8 or later.
2) javaFx library.
3) Internet Connection.
Download
How to execute the application?
Download this zip file JFX-Browser V1.0.0.zip.
Unzip JFX-Browser V1.0.0.zip
cd JFX-Browser V1.0.0
sudo chmod +x JFX-Browser-1.0.0.jar
java -jar JFX-Browser-1.0.0.jar :+1:
Credits
Contact Us
License
MIT License
Copyright (c) 2018 ♚ Sudo ツ
Permission is hereby granted, free of charge, to any person obtaining a copy of this software and associated documentation files (the "Software"), to deal in the Software without restriction, including without limitation the rights to use, copy, modify, merge, publish, distribute, sublicense, and/or sell copies of the Software, and to permit persons to whom the Software is furnished to do so, subject to the following conditions:
The above copyright notice and this permission notice shall be included in all copies or substantial portions of the Software.
THE SOFTWARE IS PROVIDED "AS IS", WITHOUT WARRANTY OF ANY KIND, EXPRESS OR IMPLIED, INCLUDING BUT NOT LIMITED TO THE WARRANTIES OF MERCHANTABILITY, FITNESS FOR A PARTICULAR PURPOSE AND NONINFRINGEMENT. IN NO EVENT SHALL THE AUTHORS OR COPYRIGHT HOLDERS BE LIABLE FOR ANY CLAIM, DAMAGES OR OTHER LIABILITY, WHETHER IN AN ACTION OF CONTRACT, TORT OR OTHERWISE, ARISING FROM, OUT OF OR IN CONNECTION WITH THE SOFTWARE OR THE USE OR OTHER DEALINGS IN THE SOFTWARE.